The following is an article entitled "Cultivating the Next Generation of Japan Hands with JET" by Nicole Uehara from the Center of Professional Exchange (CEPEX). It provides a succinct overview of the JET Program thus far, its history of growth as a soft power, and the untapped potential a lot of companies within Japan are currently recognizing:
The JET Program
The Japan Exchange and Teaching (JET) Program began with 800 participants in 1987 with the lofty aim to increase grassroots internationalization. Young college graduates were selected to live and work in Japan as an Assistant Language Teacher (ALT) or Coordinator for International Relations (CIR) from the United States, United Kingdom, Australia and New Zealand. The JET Program peaked in size in 2003 with 6,226 participants from 41 countries, and has decreased to around 4,400 participants.[1] A number of cities have stopped accepting JET Program ALTs and directly hire their own ALTs or use ALT dispatch companies such as Interac, BorderLink, and Altia Central.[2] In 2014 there were 4,101 ALTs, 364 CIRs and 11 SEAs from the JET Program working in Japan. While there are representatives from 42 countries, over 54% are Americans. Combined with participants from United Kingdom, Australia, New Zealand and Canada, these five countries comprise over 87% of the JET Program.[3] In addition to the JET Program, around 8,000 ALTs hired directly or through dispatch companies are working in Japanese schools.[4]
JET as a Public Diplomacy Tool
In the past 27 years over 60,000 people have lived and worked in Japan through the JET Program. While improvements in English ability in Japan have been mixed, the program has significant soft power attributes and helped cultivate a new generation of Japan hands. A 2011 study by Indiana University Associate Professor Emily Metzgar (Shimane 1993-1995) focused on how the JET Program is a "effective public diplomacy program yielding benefits to Japan well after alumni have moved on to new chapters in their lives."  Former participants in the JET Program can be found in varying stages of their careers in academia, public service, nonprofits, and the corporate sector. Out of the estimated 20,000 American alumni of the JET Program, Metzgar's study received 518 responses, 86% of whom were ALTs. Survey results clearly showed the impact of participation on the JET Program for the respondents. 85% strongly agreed that the JET Program gave them a deeper understanding of Japan, 77% strongly agreed that the experience on the JET Program had been valuable, 84% had a positive impression of Japan, 96% said their experience in Japan influenced the views of their family and friends of Japan, and 97% encouraged friends and family to visit Japan.[5]
The Future of the JET Program
In September 2014, Prime Minister Shinzo Abe announced plans to increase the ranks of ALTs in Japan by 2,300 over five years. The government is targeting JET Program and privately hired ALTs to reach 20,000 by 2019.[6] In 2014 over 12,000 ALTs are working in Japanese schools, including 4,101 from the JET Program and 8,000 hired directly by individual Board of Education offices or through dispatch companies. According to Harry Hill, CULCON (Conference on Cultural and Educational Interchange) Chairman and JET Program CIR in Gifu 1987-1988, "JET is part of the solution to the diversity problem facing Japan." "JET has been tremendously successful in developing Japan hands over the last 27 years, but Japan needs our expertise even more today."[7]
Following the Great East Japan Earthquake on March 11, 2011, the JET Program alumni collectively and individually responded to support Japan. JETAA USA, the national alumni organization for the JET Program in the U.S., raised over $88,000 for the relief fund which supported  Hope for Tomorrow, E-Pa+ch, Taylor Anderson Memorial Fund, Live Your Dream: The Taylor Anderson Story, volunteerAKITA, and Rikuzentakata City. Other JET alumni volunteered in Tohoku with the cleanup efforts, or created new projects to continue assisting with rebuilding.[8] JET alum Wesley Julian (Miyagi 2008-2010) created a documentary film, Tohoku Tomo, which highlighted the "story of true friendship and commitment to Japan's recovery by the international community following the Great East Japan Earthquake."[9] Former JET Program USA Coordinator Ayako Smethurst and Shanti Shoji (Kagawa 2002-2004) created the nonprofit Kizuna Across Cultures (KAC) in June 2011, to inspire youth in Japan and the United States to become active global citizens by fostering international friendship through exchange of culture and collaborative learning of foreign language.[10]
Keizai Doyukai Raising Awareness of JET
With the numbers of foreigners working in Japanese schools set to increase in the short to medium-term, Keizai Doyukai (Doyukai), the Japan Association of Corporate Executives, has begun to investigate ways to harness this growing talent pool. While some former JET Program ALTs continue to live and work in Japan after completing their contracts, the majority return to their home countries to pursue graduate degrees or other employment opportunities. Only a small number of companies in Japan have former JET Program participants working for them such as Latham and Watkins LLP, Sojitz Corporation, and Mitsubishi Corporation. A 2013 survey of Doyukai members revealed only 16 percent of the 207 responding Japanese companies knew about the JET Program and only ten companies had hired a former JET Program participant. Doyukai is working with the business community and other organizations to highlight the JET Program and alumni as a talented pool of foreigners with both an understanding of Japan and Japanese language ability. In May 2014 Doyukai organized a special roundtable in Tokyo with business leaders, JET Program participants and alumni and special guests including First Lady of Japan Akie Abe and Minister Hakubun Shimomura. In November 2014 Doyukai held another special event in Nagasaki with members of Nagasaki University, Doyukai members, and current and former JET Program participants in Nagasaki.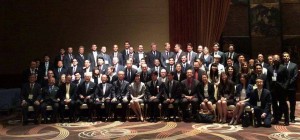 (Tokyo Event with First Lady Akie Abe)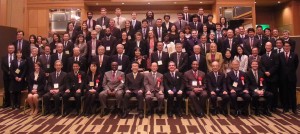 (Nagasaki Event)
Additionally, scholarship opportunities for JET Program alumni are being encouraged and promoted by Keizai Doyukai members. In 2015 Showa Women's University, located in Setagaya-ku, Tokyo, offered two (2) graduate school scholarships for JET Program alumni who have passed the Japanese Language Proficiency Test (JLPT) Level N1. Qualified applicants were eligible to receive financial support for graduate school in exchange for work as an office and Teaching Assistant up to 28 hours per week. The JET Scholarship would cover enrollment fee, facilities and equipment fee, tuition, housing and training materials costs.
CEPEX Support for JET
A key mission of CEPEX is to support the cultural and interpersonal exchange and study between the U.S. and Japan at the professional level. Throughout the years CEPEX has endeavored to assist Americans who return from Japan in maintaining and strengthening their ties to Japan. CEPEX has coordinated a number of events to connect members of the JET Program alumni association in Washington, DC with visiting Japanese professionals from Keizai Doyukai as well as a special dinner with then-former Prime Minister Shinzo Abe in 2010. In 2006, CEPEX cooperated with Teikyo University Graduate School to provide an innovative teaching fellowship program available only for JET Program alumni. The fellowship provided full tuition and housing benefits, as well as an opportunity to conduct language teaching assistance or lecturer duties in Japan. Walter Tsushima (Ishikawa 2002-2005) became the first CEPEX fellow and graduated with a Master's degree in Japanese Studies from Teikyo University in 2008. Mr. Tsushima is currently working as an Assistant Professor at Fukui University.
Original post found here: http://www.cepex.org/cepexnews/cultivating-the-next-generation-of-japan-hands-on-the-jet-program